I am excited to be able to reveal to you the cover of my debut novel, A Fool's Errand.
This cover was designed in 2017, and I have had it close at hand ever since. There has been a poster on my wall, a mobile phone cover and other versions surrounding me while I crafted the story.
Whenever I hit an obstacle in my learning process or was unsure about if I would ever reach the end, I would look at the cover, and it would help keep me motivated.
I still love it, and love to look at the poster and also the print proof copy sitting on my desk.
I hope you like this cover as much as I do. The ring is an integral part of the book, and the symbol of the Jester's face is something that I had created within months of me starting the first draft.
That symbol can be found throughout the story as well as on a wax seal in my studio. We will be adding the wax seal to signed copies of the paperback.
Anyway, here it is.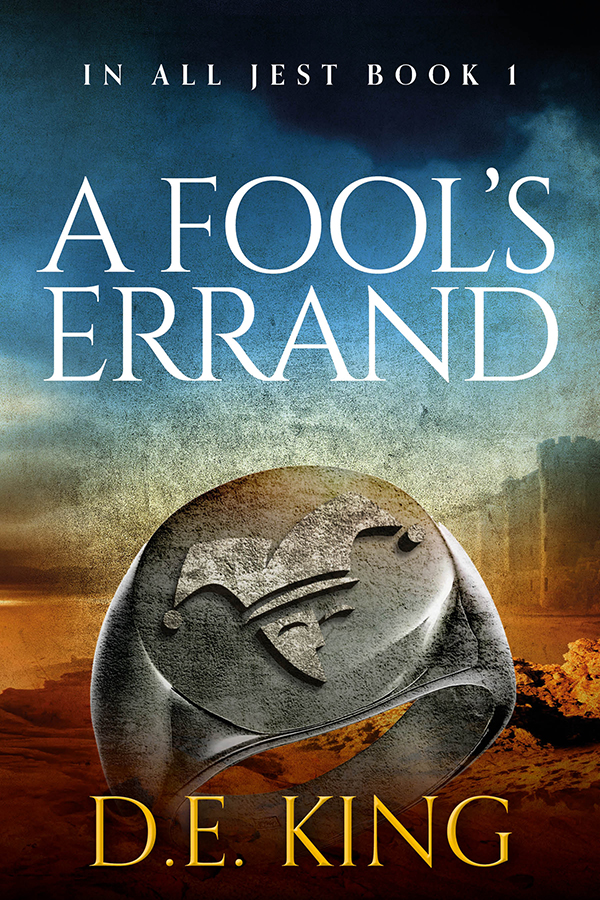 No one knows the past, not even the secret society of Jesters who covertly maintain stability in Dharatan.

All recent memory begins after a now-forgotten battle that almost destroyed their world.

An amulet, linked to the very cause of the war, surfaces after 800 years. One of the most experienced Jesters steals it before it can be delivered to an unknown enemy.

In an isolated cavern, outside the small northern city of Barnen, the Jester lies dying. Lani, a young woman seeking shelter away from trouble in the city, stumbles on him in his final moments.

Now in possession of the amulet, and hunted by assassins sent to retrieve the jewel, Lani is driven away from the only place she's ever lived and becomes entangled in events outside of her control.

More alone than ever and unsure who is friend or foe, she finds herself bound to this Jester's world in ways she could never have imagined. When she is told she is part of a bigger fate, her journey becomes a matter of life and death, as she seeks to unravel the truth.
A Fool's Errand is now available for pre-order on several retailer sites, I'll add more as they show up. The current List is below:
Direct (it gets delivered to the device of your choice but I receive more, instead of the retailer)
more to come…
In my artifacts store, you can also pre-order signed paperbacks.
I'd love to get your feedback on the cover and you can see the map of Dharatan here.